Site Map & Campground Rules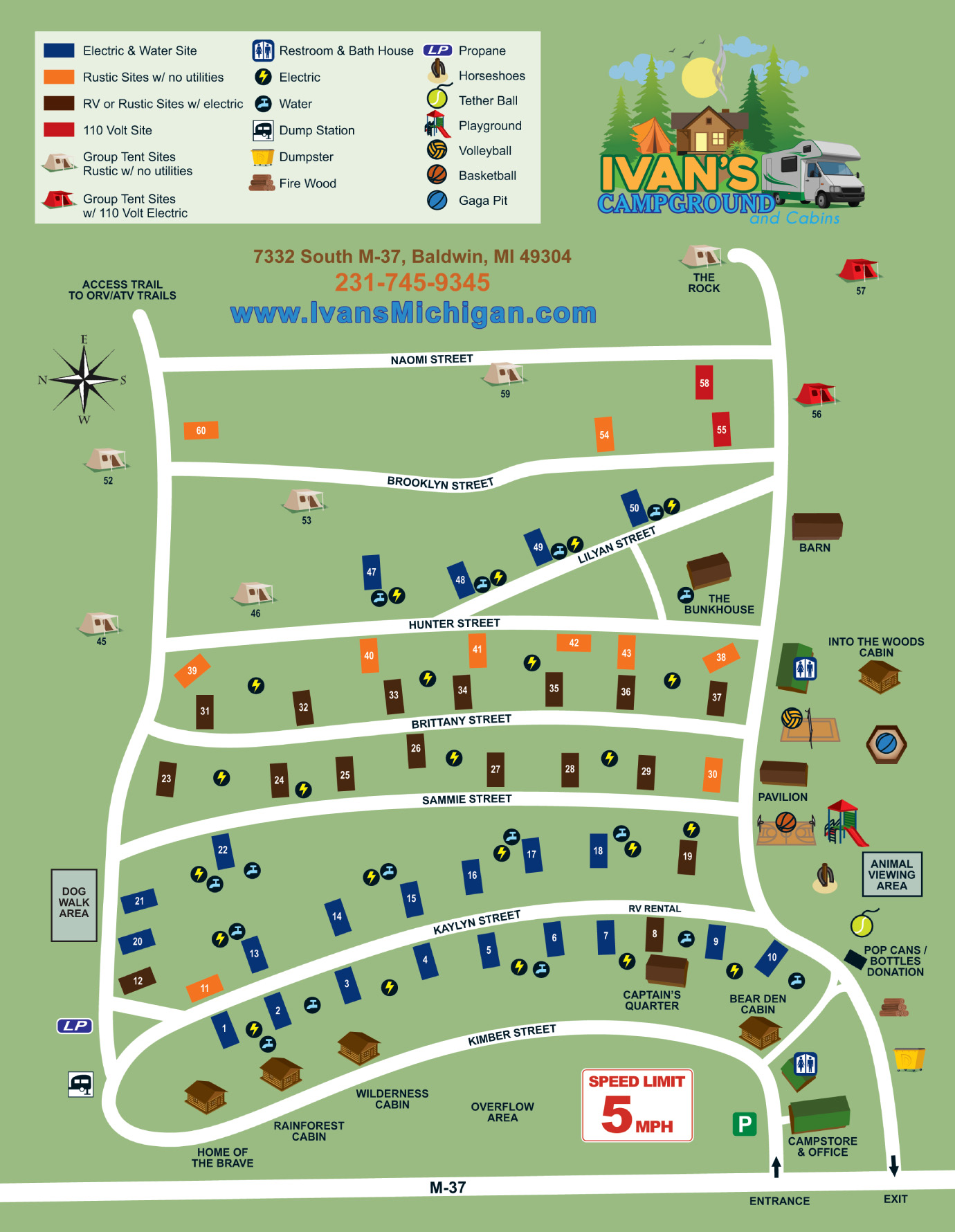 You may click on the map above to download and print a high-resolution PDF version.
Quiet Time: Please be respectful to your fellow campers!
Speed Limit: The park speed limit is 5 MPH and is strictly enforced!
Campsite: Each campsite is allowed 2 vehicles. Overflow parking is available. Inquire at the campground office. No dumping of grey water or sewer on the ground.
Pets: Pets must be kept on a leash. No exotic pets or animals with an aggressive disposition are allowed. Please clean up after your dog. Pets may not be left unattended at the campsite.
Campfires: Guests may not bring their own firewood. This is to help control the spread of bugs and disease. Firewood is for sale at the camp store. Campfires must be kept in fire pits. Do not leave fires unattended. No foraging for firewood or cutting/breaking of trees allowed.
Fireworks: Fireworks are prohibited, including sparklers!
Firearms: No firearms, air guns, BB guns or sling shots.
Alcohol / Recreational Marijuana: We are a family campground, all alcoholic beverages and recreational marijuana must be consumed responsibly.
Off-Road Vehicles: All ORVs are to drive in or out of camp to designated off-road trails. Please drive slowly while in camp. 5 MPH speed limit is strictly enforced. Overflow parking for trailers is available, please make arrangements with the camp office.
General Liability: All persons using the campground and your site agree to abide by and be subject to all federal, state and local laws and regulations established for the use and occupancy of campgrounds. This property is privately owned. The camper accepts camping privileges with the understanding that he/she does hereby forever release, hold harmless and indemnify the campground, its officers and employees of any and all liability whatsoever for loss or damage to property and injury to his person arising out of his/her/its use of its camping facilities, and agree to indemnify and hold harmless the campground, its owners, officers and employees, against claims resulting from loss of damage to property or injury to the person or any member of the family or guest of the registered Camper arising out of the use of its camping facility.